If you're trying to lose a beer gut or the few pounds that have creeped on with one (or a few) too many TV dinners, know there are several ways to prepare healthy meals using seafood. If you don't live near a coastline the catch of the day might come from your grocery store instead, but there's a ton of options for every palate and fishy preference.
1. Grilled Salmon and Zucchini with Red Pepper Sauce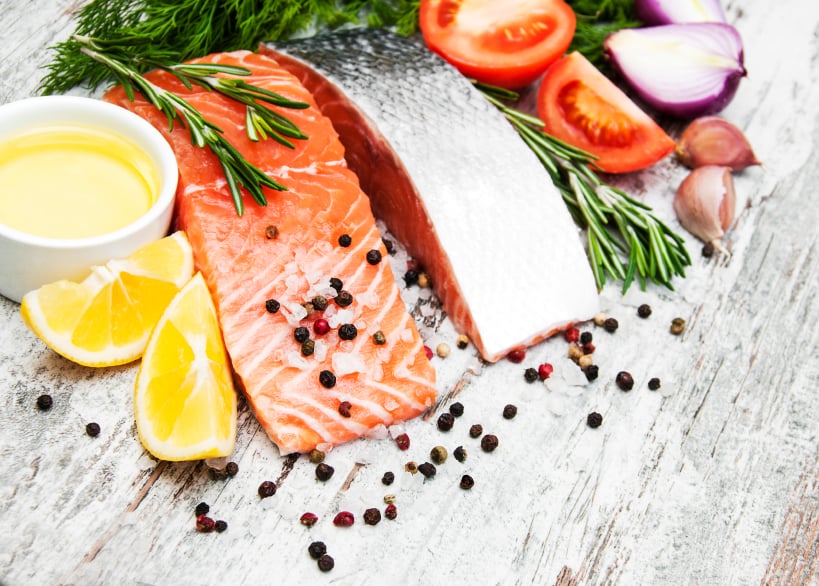 Salmon sometimes gets a bad rap in the dieting world because of its fattier makeup and higher calorie count than some other fish. But Livestrong explains that the calories you do consume are also packed with nutrients and a ton of protein, which means you'll feel full for longer. Livestrong suggests trying the Coho or Sockeye varieties, both of which can supply up to 40% of necessary protein with just a 3-ounce serving. Eat This, Not That! writes that wild versions are better for your weight loss goals because farmed salmon are fattened up on fishmeal.
Fitness offers this salmon dish that won't let you down on flavor, and also incorporates some veggies you might otherwise neglect. The publication reports each serving contains 280 calories, 13 grams of fat, and 32 grams of protein. (If you prepare it as directed, you'll have four servings.)
Ingredients:
⅓ cup sliced almonds, toasted
¼ cup chopped jarred roasted red peppers
¼ cup halved grape tomatoes, or cherry tomatoes
1 small clove garlic
1 tablespoon extra-virgin olive oil
1 tablespoon sherry vinegar, or red-wine vinegar
1 teaspoon paprika, preferably smoked
¾ teaspoon salt, divided
½ teaspoon freshly ground pepper, divided
1¼ pounds wild-caught salmon fillet, skinned and cut crosswise into 4 portions
2 medium zucchini, or summer squash (or 1 of each), halved lengthwise
Canola or olive oil cooking spray
1 tablespoon chopped fresh parsley, for garnish
Directions:
Preheat grill to medium. Process almonds, peppers, tomatoes, garlic, oil, vinegar, paprika,¼ teaspoon salt, and ¼ teaspoon pepper in a food processor or blender until smooth; set aside. Coat salmon and zucchini (and/or summer squash) on both sides with cooking spray, then sprinkle with the remaining ½ teaspoon salt and ¼ teaspoon pepper.
Grill, turning once, until the salmon is just cooked through and the squash is soft and browned, about 3 minutes per side. Transfer the squash to a clean cutting board. When cool enough to handle, slice into ½-inch pieces. Toss in a bowl with half of the reserved sauce. Divide the squash among 4 plates along with a piece of salmon topped with some of the remaining sauce. Garnish with parsley, if desired.